Teachers spend a lifetime doing one of the most meaningful and rewarding jobs on the planet.  While I am sure they are ecstatic about not having to write lesson plans or the long hours grading papers, they will miss the meaningful relationships they build year after year.  Retirement for teachers isn't just about putting the work behind and doing what they always wanted to do, it's about celebrating those relationships and the lives they helped shaped. 
While we think it's close to impossible to give a teacher a gift that can capture all of this, we do feel the right gift does exactly what it is meant to do….say thank you.  Below you will find the best of retirement awards, fun gifts, touching gifts, and gifts based on personality.
Teacher Retirement Awards
A glass or crystal plaque is a nice way to show appreciation for the year they have devoted to molding our youth.  There are many options out there that are perfect for teachers and most can be personalized to make the gift special.  Here are a few designs we feel do exactly that.
Apple Crystal Award
We have all heard about students bringing in apples for their teachers, this award symbolizes the years of service and all the students that have walked through their classroom doors.
Mounted Bell
A retired teacher may have put their days behind them of the morning school bell, so this gift helps remind them of the countless days they spent in such a rewarding role.
Crystal Book Award
This beautiful crystal book captures the essence of being a teacher through a touching poem.  The crystal award can be personalized with the teacher's name, school, and retirement date.
Fun Gifts
A fun way to celebrate a teacher's retirement is by turning him or her into a caricature and having it printed on a coffee mug that says "World's Best Teacher".  The process is as easy as sending in a photo.  Your teacher friend will love this gift!
The beauty of retirement is that you make up your own schedule and no one knows better than teachers about staring at clocks all day and sticking to a schedule.  Give them a gift that says good-bye to that by the minute schedule with his hysterical Whatever Clock.
If the teacher retiring has a good sense of humor, why not get them a funny tshirt that leaves behind the school days with a laugh.  This tshirt simply points out the obvious, they're a retired teacher and they have no class.
Teaching goes way beyond letters and numbers; this ceramic ring or trinket dish will be a daily reminder of the lasting influence a teacher has in the lives of their students.  Put it in the bathroom or kitchen for use while you wash your hands, do dishes or prepare a meal. Leave it by the sink or nightstand to place your rings, earrings, necklaces and watch.
The positive impact that a great teacher makes on the life of a student can last a lifetime.  Like a good compass, the teacher helps the student to safely navigate challenging school and personal struggles. Celebrate the retirement of that special teacher in your life with this unique engraved brass compass.  
Working, solid brass compass.
Custom message engraved on the inside of the lid.
Size: 1.75" High x 3" Diameter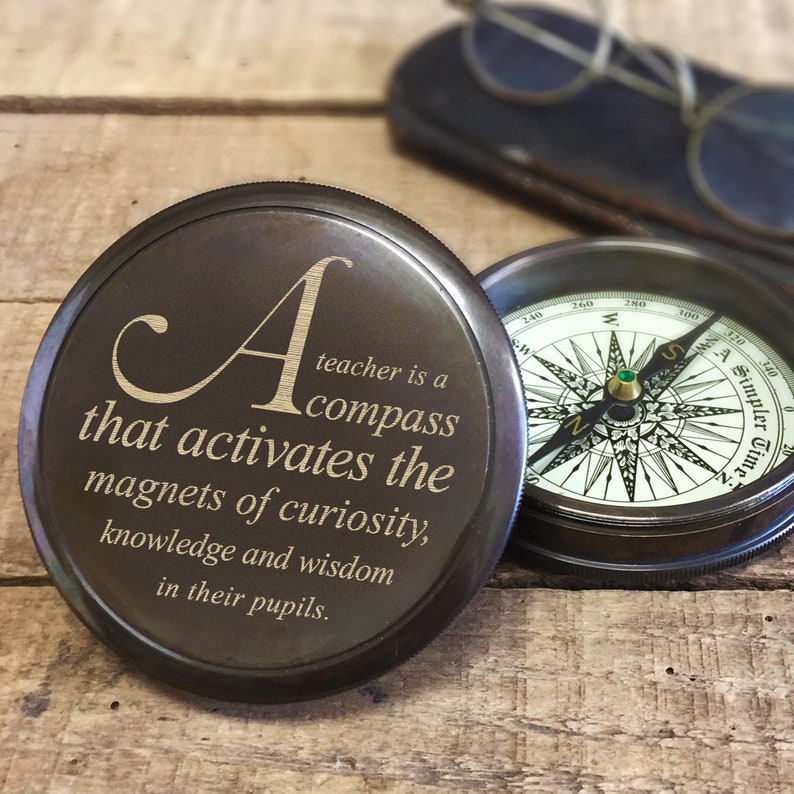 Personalized Retirement Throw Pillow for Teacher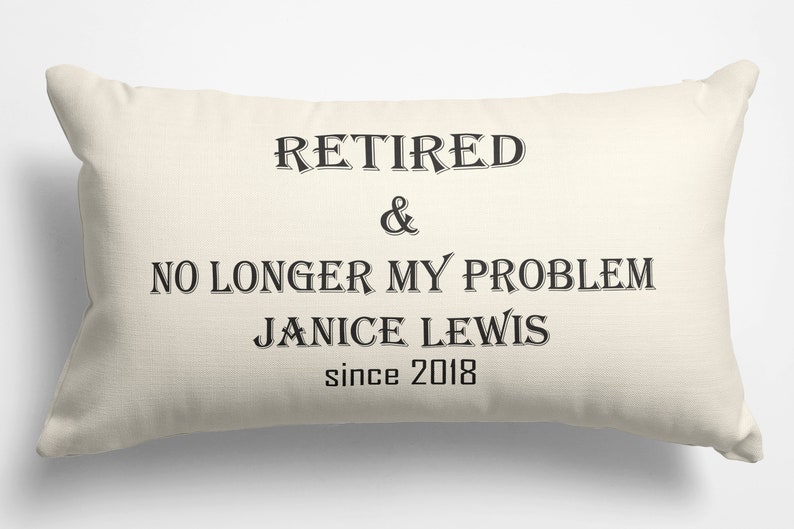 Teachers work hard, putting so much physical, emotional and mental energy into doing a great job and making a difference in their students' lives.  Seeing this personalized throw pillow at home each day will bring a smile to your special teacher's face.  A beautiful gift that will grace any home. 
Handmade Polyester Throw Pillow with customized, light-hearted sentiment.
Measures 11x17inches 
Wish your co-worker or teacher well as they leave their teaching position to retire.  Now she will have plenty of time to prepare and savor snacks to with friends and family, knowing that she was appreciated.
16 x 10.5 x 5/8 inches
Laser engraved.  Each uniquely beautiful and oiled with a natural food grade oil.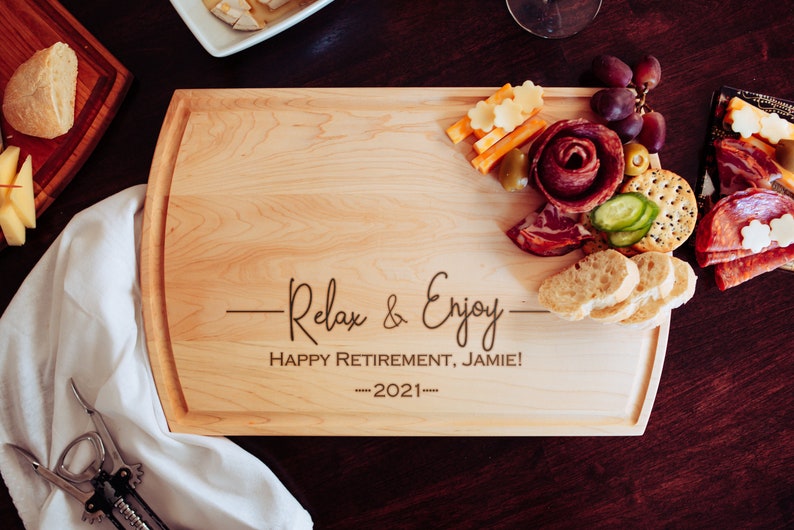 Personalized Rustic Wood Valet Tray, Men's Docking Station, Vanity Tray, Catchall.  They are perfect for storing keys, phone , wedding rings, head phones, wallets and just about anything else you can think of. They look great on a counter top, night stand and even a bathroom sink.  Each time your former teacher uses this unique gift they will be reminded of the impact they made in the lives of their students.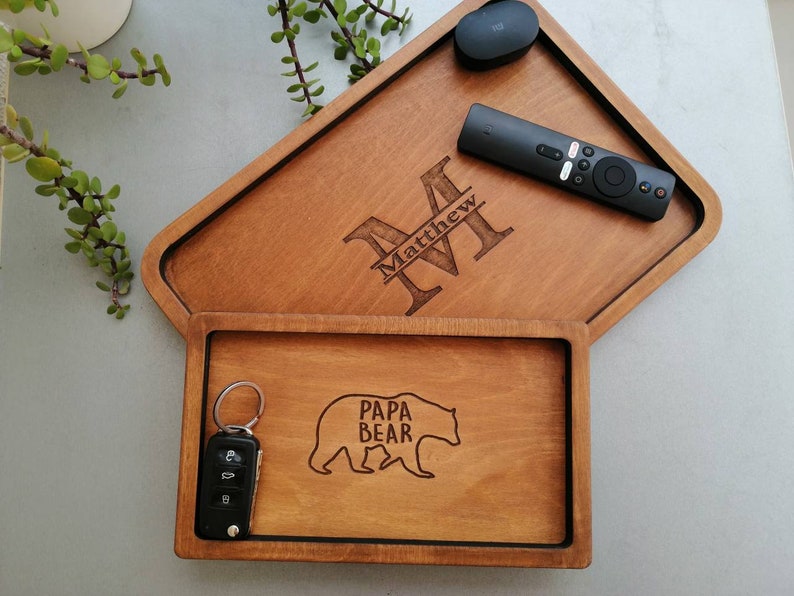 Touching Gifts
Collect well wishes from past students
In this day and age hunting down former students is easier than ever.  Reach out and see if they are still in the area and if they would be willing to sign a retirement photo frame or if they would be willing to send in a card.  Your friend will come to tears seeing how many lives he or she has touched.
Have a retirement party
Ok this one is simple, your friend will love seeing friends and colleagues.  Make sure to invite past colleagues also as it's not just about celebrating the last few years but their entire career.  They will love seeing colleagues whom they thought with years and years ago and reminiscing about those first few years.  For an added touch, invite students from their past that they still might talk about.
Have something from their classroom engraved
Teachers are a sentimental group and many of them have props that they have used year after year.  Think along the lines of biology teacher who has had the same periodic chart through out his or her career.   Or a teacher that has used the same chair for as long you can remember.  Try and get a hold of this precious artifact and have preserved either through framing it, restoring it, mounting it on a plaque, etc.
Gifts based on Personality
Maybe you do not want to give a gift that looks back and celebrates their teaching career, but instead you want to give them a gift that fits their personalities and that they will be looking forward to in retirement.  Here are some suggestions for a few different personalities that can be personalized to still celebrate their retirement.
For the Golfer - this three piece gift comes with a golf shoes carry bag, a golf towel, and a divot repair/ball marker key chain.  All three can be personalized with a single initial.
For the Beer Lover - this rustic wooden beer carrier can be engraved with three lines up to 15 characters each, perfect for the retiree's name, date and note.
For the Gardener - this three tool set comes with a trowel, twist fork, and rake cultivator each with a wooden handle that can be engraved.
For the Writer - this unique leather journal can be highly personalized on both front and back.  The journal can even be engraved with a photo or your own handwriting making this extremely special and unique.
For the Cigar Aficionado - this stainless steel cigar cutter can be engraved with the retiree's initials and retirement date.
For the Wine Lover - this seven piece wine set comes in a beautiful cheery stained wooden case that can be engraved with a sentimental note.
For other great ideas check out our entire collection of memorable retirement gifts.